Our staff are more than carers. They're helping our service users expand their horizons. They're helping them celebrate their individuality. There are no uniforms allowed – and that's an important reflection of the relationship between our staff and the people living at ASC.
"Working here has changed my life."
From "dead-end" retail jobs to an upbringing caring for siblings to careers in manufacturing and non-profits, they come from all sorts of situations and experiences. But what our staff share is a commitment to expanding and enriching the day-to-day lives of our service users. And along with that come unique connections, and a deep-rooted sense that they are making a real difference every day.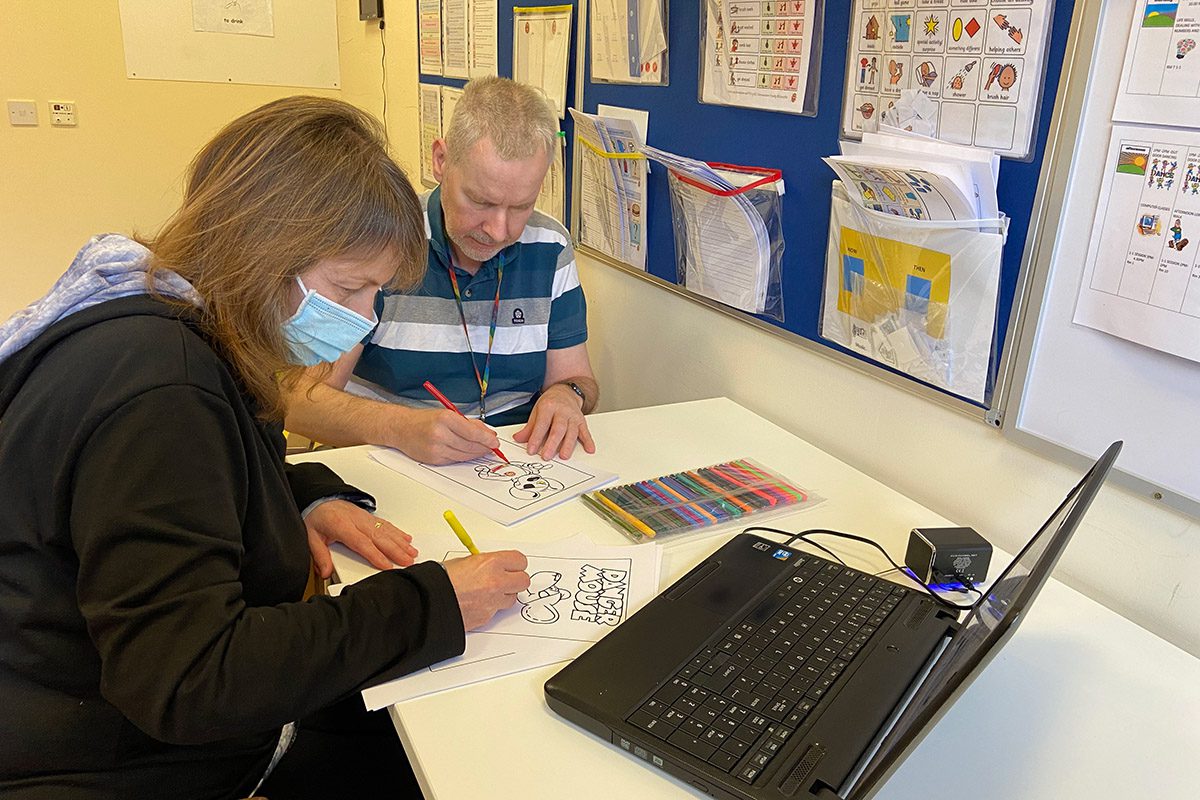 If we're honest, you can't move at ASC without hearing the sort of comments below – all of them from our current staff.
"It's like seeing your little sister grow up and go out into the big wide world."
"For a nurse there is so much more opportunity for progression"
"Turning around someone's mood is a good feeling."
"More than anything it's just really fun."
"I didn't expect to be such a big part of their lives"
"Working here has changed my life"
'For a nurse there is so much more opportunity for progression'
Mairead O'Connor learned from an early age to socialise with people with learning disabilities just like she would anyone else. Her mother was a learning disabilities nurse so she grew up accustomed to having her mum's patients stop by and play.
"I grew up with that and so I wanted to do that too." Following a nursing degree at Napier University in Edinburgh, Mairead worked in the NHS then joined specialist care facility ASC.
"There's a huge emphasis on activities here at ASC and everything is person-centred, meaning we cater to individuals' needs, it's not a one-size-fits-all solution," says Mairead of the Balbeggie based facility, which provides residential care for adults with learning disabilities, histories of mental health issues, and challenged behaviours."
Mairead is a firm advocate of the private health model when it comes to treating adults with special care needs. "I feel like elsewhere there's a structure and you have to work around it. Here, the structure works around the service users."
Mairead's job as lead nurse at ASC involves developing and following care plans for service users, working with local authorities and other agencies to ensure that individuals' needs are being supported, and making sure the right environmental support is there for residents.
What sort of person is it suited for? "It's a huge job," she says. "It's for people who realliy care and are dedicated. It's for people who are willing to treat this as more than just a job, but as a career, as a vocation."
The rewards in nursing roles are rapid progression and the sorts of responsibilities you may have to wait longer for in the public sector.
'Turning around someone's mood is a good feeling.'
Shaun Rosling is keeping it in the family with his job as senior support worker at ASC, the speciality services arm of Balhousie Health Care.
Shaun's brother was also a support worker and Shaun first got a taste for social care when he would pay visits to the home his brother worked in.
"I've always worked in the area of behaviour that is perceived as challenging," says Shaun, 35, who joined ASC six years ago. "There's so much you can do. Being able to turn someone's mood around is a good feeling."
Apart from the personal satisfaction of working with adults with personality disorders, challenging behaviour and histories of mental health issues, Shaun finds that ASC works for him on a practical level. "I work my shift patterns so that I get every Friday off. They've been really accommodation with that."
What advice does he have for people who want to get into this field of work? "You need to be able to brush things off. The guys living here can be realliy verbal.  You have to be a person that doesn't take things too much to heart, someone with a positive outlook."
'More than anything it's just really fun.'
Ask Lorianne Garrow why she does what she does – providing support to adults in care – and she says simply: "Because they deserve it."
From taking them shopping to accompanying them to a football match to catching a bus to styling their hair, Lorianne says it's all about allowing them to do the things we take for granted. "Something simple like straightening one of the girls' hair can mean the world to them. And of course you build up bonds with them. They don't get anybody else to express their feelings to or get a hug from."
Lorianne, 28, joined ASC in 2012 after working in retail. She now plans to stay in the social care sector, completing SVQs in social services and healthcare with the aim of going into mental health nursing.
She says she knew she was in the right job when she took a break from the ASC facility to care for an individual privately in his home. "I really missed the residents and service users. You get to know them, you see them more than you do your own family."
But most of all, she says, "it's just really fun."
'I didn't expect to be such a big part of their lives'
The challenges, the inspiration, the camaraderie of staff – they're all reasons Liam Thomson loves his job as a support worker at ASC.
Bonds are formed, he says, both with the service users and the staff. "We're working with adults with learning disabilities, histories of mental health, and behaviour that challenges, so it's a very challenging environment. But there's such a sense of achievement."
Something one of his managers told him sums up his and other staff members' attitude to working at ASC, and is fundamental to the facility's success – so much so that people travel far to work here. "She said we work in their home, they don't live in our work."
Does he take his work and perhaps stresses home with him? "I'm good at cutting off and separating work from personal life," says Liam.
He works long shifts but only three days a week, and he has every second weekend off. "I love that flexibility, and ASC has been great at allowing me to take summers off as well. I've done summer camps in America, for example, and come back to work afterwards."
Liam, previously in a "dead end retail job", came to the job with previous knowledge of it; his sister worked at ASC and recommended he apply. But the experience has turned out to be much richer than he was expecting. "I thought it would be more of a day centre job, I didn't expect to be a big part of their lives."
Three years on, working at ASC has inspired him to pursue a career in mental health nursing.
'Working here has changed my life'
When Kirsti Bonthrone answered a job advert on indeed.co.uk for a support worker at ASC, little did she know she would find her vocation.
Kirsti had wanted to go into social care ever since having a social worker herself in her youth. "She completely changed my life for the better. Everything I've accomplished so far has been because of her," says Kirsti, who had struggled with anxiety growing up.Gaining the social worker's support and growing her own confidence as a result made Kirsti consider working in care, and she knew that being a support worker at ASC was a great first step towards that. ASC, based in Balbeggie, Perthshire, specialises in adults with learning disabilities and challenging behaviour.
A year after starting work there, Kirsti, 24, knew she had found her vocation. "It has inspired me to go into adult nursing. I like the service users, as we call them, so much and I can relate to them. They just need that little more help to achieve quality of life."
Even on her hardest days at work, Kirsti says she knows she's in the right profession. "I could have the worst, most challenging day but I always want to come back.
It's not just the service users who are inspiring, the staff are too, and they're very supportive. Working here has changed my life."
Now studying for an HNC in social science, Kirsti is on her way towards not just fulfilling a dream but following in her own social worker's footsteps and changing people's lives for the better.
Are you ready to make a difference?
JOIN THE TEAM
Like what you see? We're always on the lookout for people who share our passion for care, support and change. If you think you have what it takes, drop us a line on careers@asc-living.co.uk or browse our current vacancies.